On September 27-28, 2017, Moscow hosted the International Conference entitled "The 1917 Revolution and its Place in the History of the 20th Century". The solemn opening and plenary session took place at the Moscow State Institute of International Relations, and the work continued in the building of the Presidium of the Russian Academy of Sciences.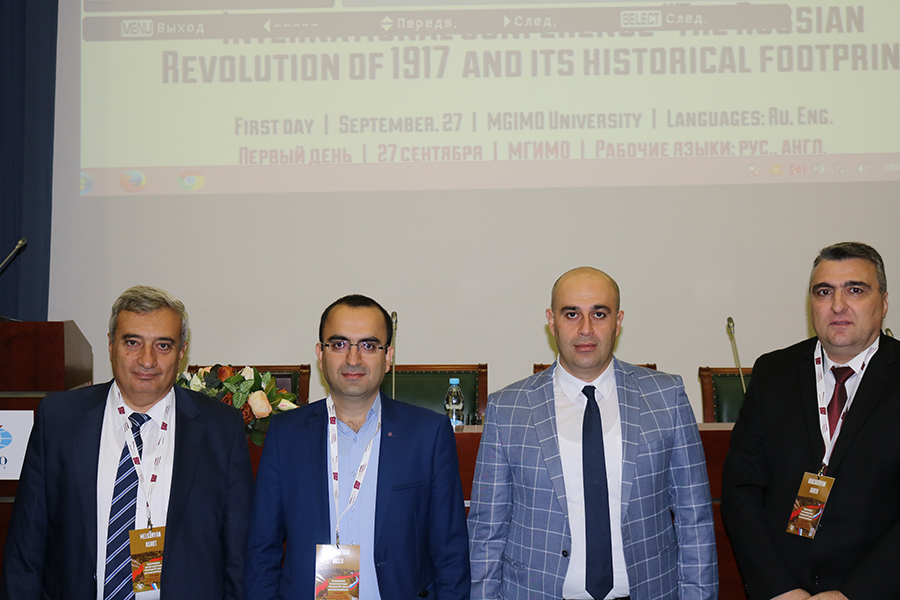 Attended by dozens of prominent scientists from around the world (Russia, USA, China, Germany, France, Belarus, Ukraine, Armenia, Georgia, Azerbaijan, Tajikistan, Kyrgyzstan, Kazakhstan, Belarus, Moldova, Estonia, Italy, Spain, Poland, Switzerland, Norway, Mexico, Chile, Argentina, Bolivia, etc.), the Conference was opened by A. Torkunov-the Rector of the Moscow State Institute of International Relations. He presented RF President Vladimir Putin's greetings to the conference participants. The Director of the Institute A. Melkonyan and Deputy Director K. Khachatryan took part in the Conference with making reports. They touched upon the consequences of the 1917 Russian Revolution linked to the fate of Armenia and the Armenian people as well as the Armenian Issue. During the Conference, A. Melkonyan and K. Khachatryan held a number of discussions with historians from different countries on the establishment and development of scientific cooperation.
On September 27, at the Institute of General History of the Russian Academy of Sciences, A. Melkonyan and K. Khachatryan participated in the regular consultation of the heads of Institutes of History of Post-Soviet space, headed by Academician of the RF Academy of Sciences, A. Chubaryan- the President of the International Association of CIS Institutes of History. Reports of the heads of institutes on the results of the 2017 scientific activities, specification of topics for bilateral and multilateral scientific cooperation, approval of the place and theme of the regular Summer School of Young Historians and other issues were within the agenda.