On October 11, the presentation of the proceedings of "The Famous Resident of Syunik, Prominent Historian and Philologist" dedicated to the 115th anniversary of Morus Hasratyan took place at the conference hall of the Institute of History of the National Academy of Sciences.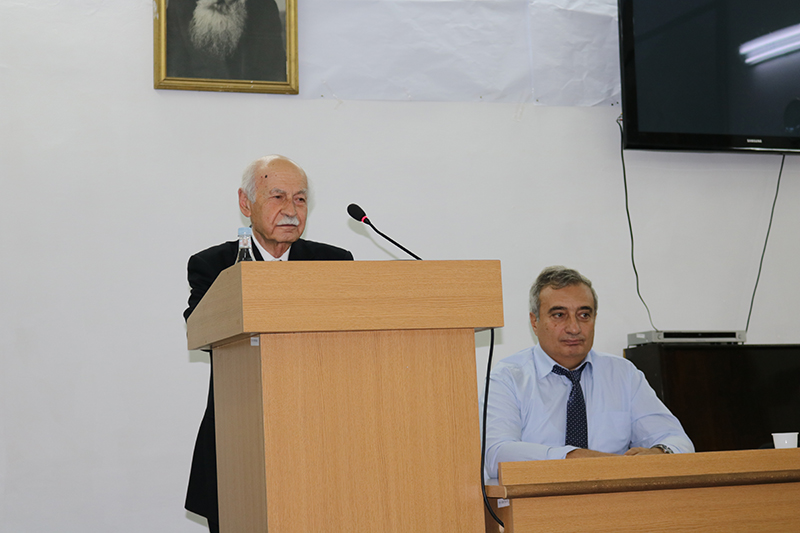 In his opening speech, Director of the Institute of History, Ashot Melkonyan highlighted the contribution of the prominent historian in the development of historical science.
NAS RA correspondent members, Doctor of Philological Sciences Aelita Dolukhanyan and Director of the Institute of Archeology and Ethnography, Doctor of Historical Sciences Pavel Avetisyan delivered speeches. They spoke about the invaluable merit of the patriotic historian in educating generations.
At the end, Murad Hasratyan's son, Murad Hasratyan, gave a gratifying speech and presented the audience with interesting and exciting episodes from the biography of the historian. Hasratyan used to be a post-graduate student of Joseph Orbeli-the First President of the National Academy of Sciences of Armenia. In 1963, he was elected a correspondent member of the Armenian National Academy of Sciences and received the honorary title of Honored Worker of Science of Armenia. In 1937 he was the Director of the Matenadaran after M. Mashtots, and subsequently-the Vice-Rector for Science at ASPI (former Armenian State Pedagogical Institute). In 1964-1975 he was the Director of the State Museum of History of Armenia, and in 1965-1966, almost for twօ years, he taught various disciplines at Haigazian College of Beirut.
He is one of the authors of the first school textbook of "History of the Armenian People". His writings include many valuable studies on Armenian history, archaeology, architecture and philology. Besides, M. Hasratyan participated in the creation of collective works on historiography. He translated Sayat-Nova's non-Armenian songs into Armenian, as well as compiled, edited and published the collection of Sayat-Nova's works (1963).