The Society for Armenian Studies and the Armenian Communities Department of the Calouste Gulbenkian Foundation, USA organized a conference on the 15th of November 2018 titled "Innovative Approaches to the History of the First Republic of Armenia, 1918-1920" at Hyat Grand Hotel in San Antonio, Texas. The conference consisted of two sessions, which started after opening remarks by the president of SAS, Prof. Bedross Der Matossian (University of Nebraska, Lincoln).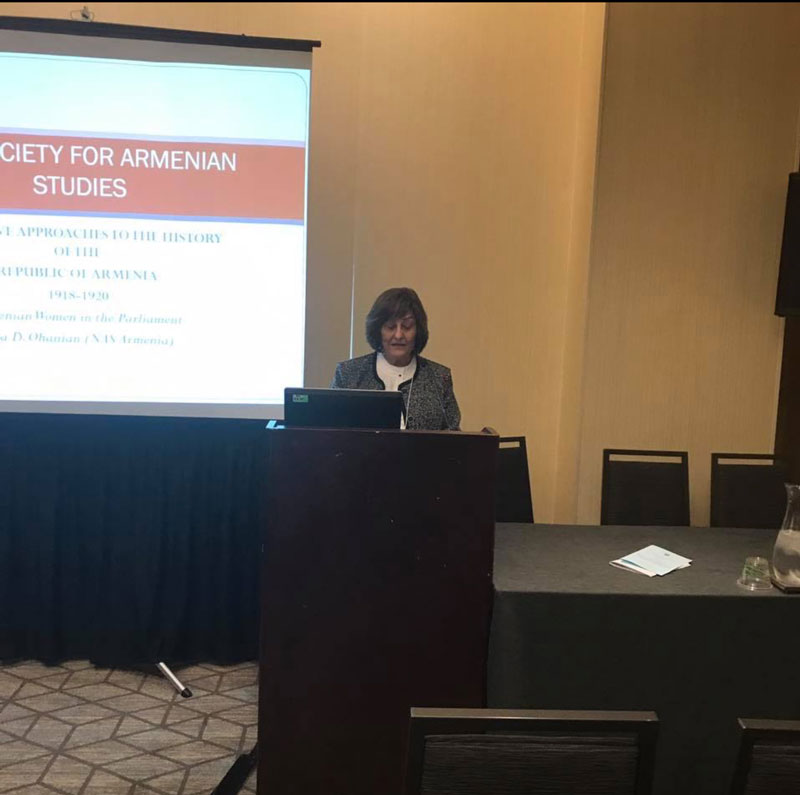 Session 1: The First Republic in the International Context chaired by Tsolin Nalbandaian (Leiden University) had 3 speakers: 1- George Bournoutian of Iona College, talked about "The Territorial Demands of the Armenian Republic: Reality and Naivete՛". 2-Vartan Matiossian from Armenian National Education Committee, New York spoke about "The Recognition of the First Republic of Armenia in South America 1918-1920". 3- Ari Sekeryan's (Oxford University) paper was about "Rethinking the Establishment of the First Republic of Armenia: Reactions of the Ottoman-Turkish and Armenian Press in Istanbul".
The second session, chaired by Barlow Der Mugrdichian  (California State University, Fresno) was titled "Gender, Personalities and Culture during the First  Republic" and consisted of four papers:  1-  Seda Ohanian from RA NAS, Institute of History, Yerevan, spoke about "Armenian Women in the Parliament of the First Republic 1918-1920". 2- Jakub Osiecki (Jagiellonian University in Krakow) talked about "The trip of Apostolic Visitor rev. Antonio Delpuche to Yerevan as the Attempt to establish Diplomatic Relations between the Republic of Armenia and the Vatican". 3- Khachig Mouradian's (Columbia University) paper was about "Becoming Aram: The Legacy of  a Revolutionary Statesman", who unfortunately, could not attend. 4- Khoren Grigoryan (RA NAS, The Institute of Archeology and Ethnography), whose paper was about "Banknotes of The First Republic of Armenia: 1918-1920"  was also not present.  
Concluding Remarks were reserved for renowned Prof. Richard Hovannisian (UCLA and Chapman University).