On September 13-15, 2019 in Stepanakert on the initiative of Artsakh Young Scientists and Professionals' Union NGO the 4th International Youth Conference on the "Past, Present and Future of the Armenian Statehood" was organized. It was dedicated to the problems, achievements, priorities of long-term development of the Armenian state, particularly on the last century. The conference was co-organized by Yerevan State University and Mesrop Mashtots University of Artsakh.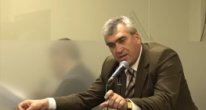 More than 100 scholars and specialists from Armenia and Artsakh, Germany, France, Poland, Russia, Ukraine, South Ossetia and other countries participated on the conference.
During the conference the Institute of History, NAS of RA was presented by Dr. Gevorg Stepanyan – Head of the Department of the Armenian Diaspora and Communities.