On November 20, 2019 an international scientific and practical conference on the "Eurasian Historical Heritage: The Facets of History – from Origins to Present»  was held in the city of Nur -Sultan - the capital of Kazakhstan.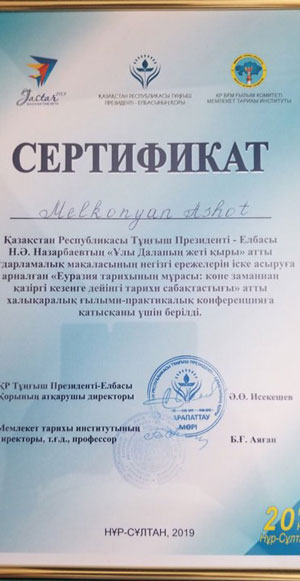 Scientists from over a dozen countries (Kazakhstan, Uzbekistan, Russian Federation, Ukraine, Georgia, Armenia, Azerbaijan, etc.), dozens of specialists on Kazakh and Central Asian history, politicians and students were presented during the conference. The representatives of the delegations delivered welcoming speeches. At the plenary session among the experts of Kazakhstan, Ukraine, Russia was Prof. Ashot Melkonyan who was  a representative of Armenia. The title of his presentation was "Armenian Sources on the Peoples of Central Asia and the Golden Horde (12th-15th centuries)».  Either A. Melkonian's and or the other speakers' presentations emphasized the exceptional importance of manuscripts by the Armenian authors such as Kirakos Gandzaketsi, Stepanos Orbelian, and others. The speakers were given special certificates.
The presentation of the Ukrainian researcher Boris Cherkas on the subject was very interesting. It is noteworthy that the only country mentioned in the map of the Golden Horde shown by him was Armenia written in Ukrainian.